Happy Mother's Day
2014-05-09 04:24:41
Love is in the air,but mother's love in the hand. They say a picture is worth a thousand words – but this week, a few sweet words could be worth A GIFT.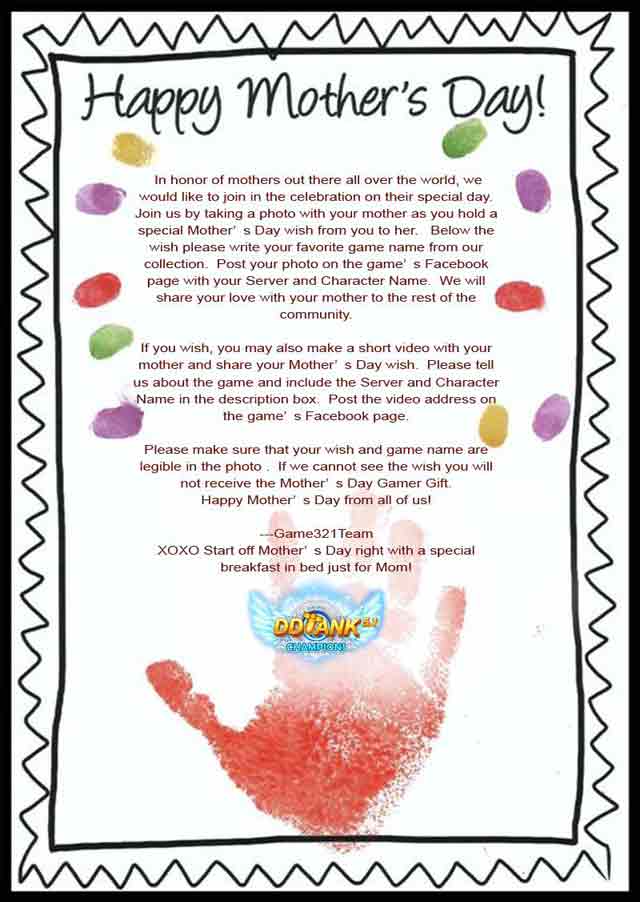 Details:
1. Write down your server, IGN, and share your works.
2. We'll pick lucky participants and send them rewards after the event finished.
3. Every account can receive reward once only.
Rewards:
Special Gift
Event Rules:
1. Any entries found to have been plagiarized will be disqualified.
2. One account can make multiple works but will only win once (Please provide your server, IGN).
3. Winners will be judged based on quality and popularity of the work.
4. Winner list will be announced on May 19th, 2014 (CDT) at Game321 official site, forum and Facebook. Rewards will be sent within 5-7 working days after that.
5. For winners who don't fill in complete information, please contact our staff within 3 days after rewards are sent. Otherwise the winner will lose the qualification.
6. The final interpretation right of this activity is reserved by Game321.
Game321 Operating Group
May11st, 2014 (CDT)